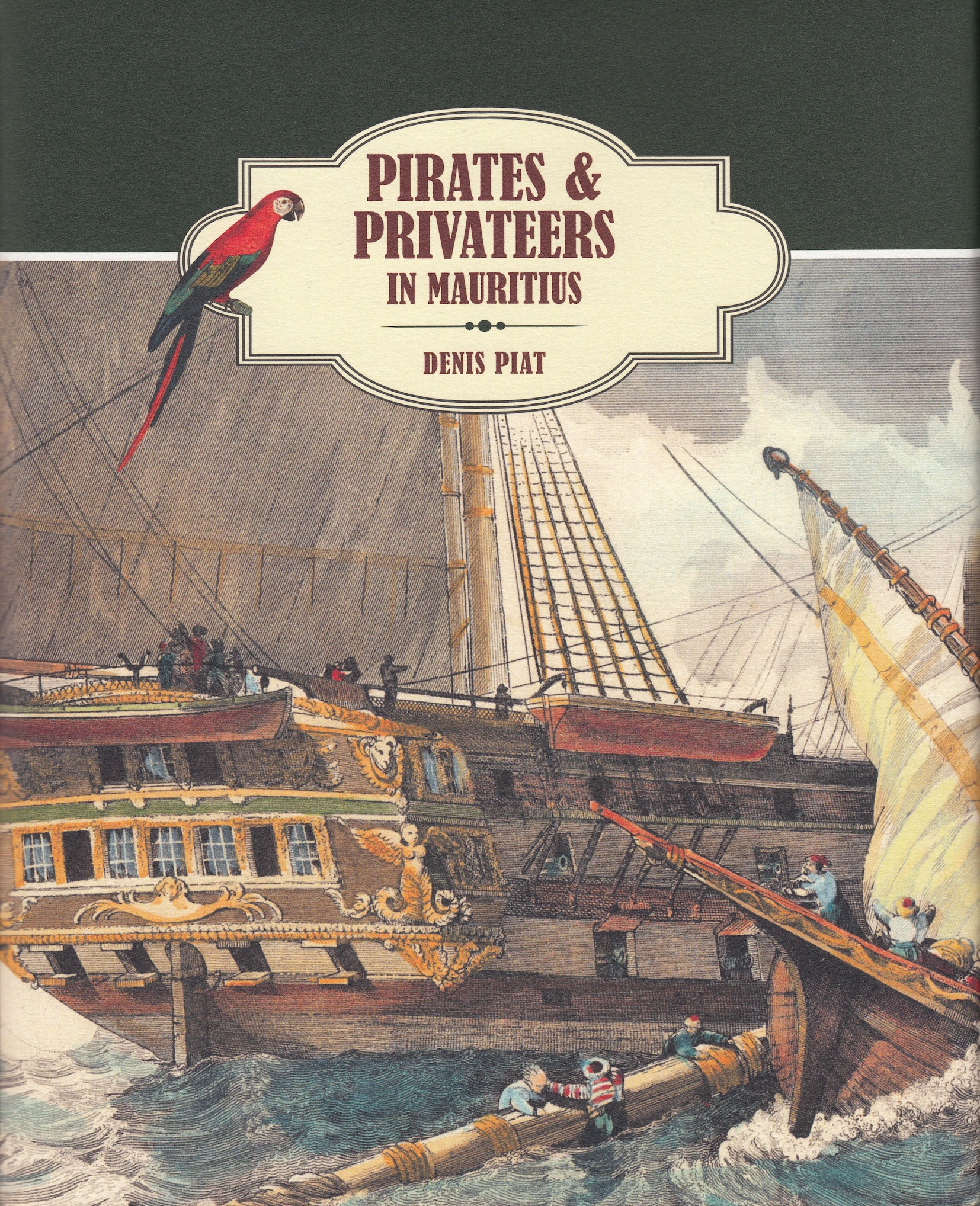 PAR DENIS PIAT. ÉDITIONS DIDIER MILLET-SINGAPORE.
ISBN : 978-981-4385-66-4.
Price : $ 32,95
At the beginning of the 17th century, pirates infested the Carribean waters, thwarting the major European powers, but were eventually driven out of the area. Some pirates took refuge in Madagascar, from where they tried to capture the lucrative cargo carried by vessels on the shipping route of the European East India Companies. After a short period of French privateer activities from 1756 to 1763, France, at the end of the 18th century, hired privateers to attack commercial ships of the British East India Company in order to weaken British influence in the Indian Ocean. This was an alternative to open warfare, and heralded the privateers' era. 
 Denis PIAT recounts the history ot the pirates and privateers in the Indian Ocean, especially in Mauritius – from the pirates' arrival in the Indian Ocean to the wrecks lying deep down in the seas surrounding Mauritius – through portraits of the most famous privateers among them.
This reprint by EDM, ÉDITIONS DIDIER MILLET – SINGAPORE is in fact a « new book » with 70 new illustrations in color and 50 additionnal pages. 
 The book dimensions are : 22 cm x 18 cm. The text has been reviewed, corrected and completed by the author, Denis PIAT. The translation into English language has been done by Philippa RICHMOND. 
 150 pages illustrated with 140 old prints and maps of the 17th, 18th and 19th century from the author's collection plus a few photographs. All the documents have each a legend carefully elaborated and are all very informative. Many biographies of well known figures are available such as the biography of the famous pirate Olivier LE VASSEUR more known as « LA BUSE » or « THE BUZZARD » (who has probably hidden his fabulous treasure in one of the Mascarenes islands) or the « king of the privateers » Robert SURCOUF. Portraits of pirates of the Carribean and of privateers of the Indian Ocean amplifies the exciting reading of their adventures.
IN MAURITIUS, THE BOOK WILL BE FOR SALE EFFECTIVE 2nd DECEMBER 2013 AT THE « BOOKCOURT LIBRAIRIES  » (Commercial centers of Port-Louis-Caudan, Bagatelle, Trianon and Cascavelle).
IN FRANCE THE BOOK WILL BE AVAILABLE EFFECTIVE 6th MARCH 2014.
ON INTERNET, THE BOOK IS ALREADY AVAILBLE.
http://www.edmbooks.com/Book/10360/…